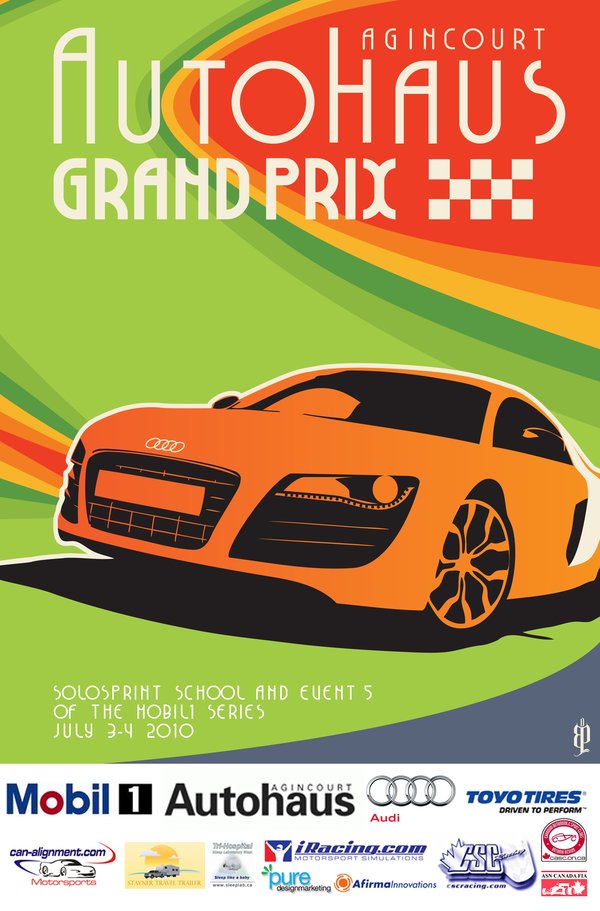 The 2010 Agincourt Autohaus Grand Prix weekend at Mosport is coming up fast!!
July 3: Mobil 1 SoloSprint Event 5 on the Mosport DDT
July 4: SoloSprint School on Mosport International Raceway ("The Big Track"!)
July 4 School: $285 Price extended to June 23rd (No student registrations thereafter) Maximum 56 student slots.
July 4 Lapping: $250 by June 23rd. Spaces limited . No spot will be held for you until the registrant has received payment. No walk-ins if there's no space.
You MUST be a graduate of a High Performance Driving School and have past experience at Mosport to qualify for lapping.
Both days payment received by June 23: Event 5 Competition / Student: $395. Event 5 Competition / Lapper: $360
Approximate schedule for both days:
07:30 Registration
09:00 Track time!!
12:00 Lunch!! (Alligator lapping of MIR for the school)
17:00 Track closed.
MIR School: Three run groups will result in up to 3 hours of track time for each registrant; student or lapper.
To register for either day: solosprint [at] rogers [dot] com
To inquire about the school only: solosprint [at] spda-online [dot] ca
This event weekend is held under the 2010 Ontario SoloSprint Rules, and the 2010 CASC-OR General Competition Rules.